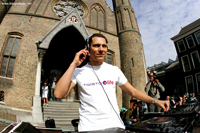 international news _ 23rd October, 2006
Tiesto's HIV Test Admission
Text by Jonty Skrufff (Skrufff.com)
Trance icon DJ Tiesto chatted to Skrufff this week about his involvement in AIDS awareness charity Dance4Life and revealed that he's personally experienced the fear of being HIV positive.

"Yes, I've been tested and it's pretty scary," Tiesto told Skrufff, "Because when you are waiting for the result you really think about it and how your life would be different if you find out you have HIV."

The definitive superstar DJ recently teamed up with Faithless frontman Maxi Jazz to record a track called Dance4Life and is passionate about helping the cause, he said.

"The name of the organisation says it all; Dance4Life makes people dance in order to create awareness for the AIDS/HIV problem," Tiesto explained. "I make people dance all around the world with my performances and therefore it's the perfect combination."

"I think it's all about bad education," the Dutch star continued, when asked why safe sex message continues to be ignored by many. "The information provided is not sufficient enough and most of the time young people in a lot of countries don't even get the proper education."

"I had proper education during my teenage years and was always scared to get a disease," he concluded, "Therefore I always used condoms and never had to be afraid of any STD (sexually transmitted disease) scares."

Tiesto's record emerged just under two years after Italian dance producer Fran released a similarly inspired track called Violent Silence which drew heavily on his own experiences of being HIV positive. Chatting to Skrufff at the time Fran said he believed he contracted HIV from unsafe sex on London's gay scene ten years ago and recounted the terror he felt as similarly infected friends started falling ill.

"I was losing friends, and seeing lots of them getting really ill to a point of losing their sight, or literally losing their minds as well," Fran recalled.

"I had a few friends who got toxoplasmosis through HIV and I've seen a lot of horrible things that that can do to you. One friend of mine used to get lost in his own house, he wouldn't remember where the toilet was, or where the bedroom was, so when all that happened I was terrified. I clearly remember sometimes lying in bed at night, really thinking about the reality of my situation and what, if, when, anything went wrong, what could happen."

"Being ill and stuck at home I realised how the whole HIV situation has been lost, it's disappeared from public attention and there's no way of mirroring such an experience in society," said Fran. "It's easy to feel invisible and isolated, people don't understand how that contributes to the illness," he added.
Interview : Tiesto Video Interview (20/03/2006)