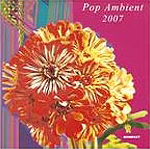 international news _ 20th October, 2006
Kompakt Pop In For Some Ambience
Text by Nick Lawrence (HigherFrequency)
For many years now Michael Mayer and friends have been employing the month of November to unleash upon the world a gathering of easily digested ambient sounds to celebrate a year that will be. This year is no different with "Pop Ambient 2007" readying to hit stores soon.

The Cologne label has selected ten tracks of spaced out ambient lovliness including works from Kompakt co-owner Wolfgang Voigt and the Orb's Thomas Felhmann. The pop sound of the album is something Kompakt started coveting even further in 2003 when they opened the sub-label Kompakt Pop, which has since sheltered tracks like Mayer's 'Lovefood' and the very radio friendly 'I Built This City' by Baxendale.

Michael Mayer himself will also be releasing a CD at the end of this month. "Immer 2" will be the long awaited follow up to his much celebrated 2002 mix CD that you'll have already deduced was called "Immer".

"Pop Ambient 2007" will be released on Kompakt on November 20.
Release : Michael Mayer / Immer 2 (30/10/2006)