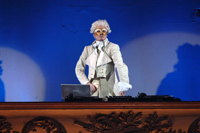 international news _ 17th October, 2006
Duke Dumont's Media Class War
Text by Jonty Skrufff (Skrufff.com) _ Photo by David Fisher
Hotly tipped London producer Duke Dumont, who won Diesel Music's Award for Best UK Electronic act at a plush ceremony in Shoreditch Town Hall last week, chatted to Skrufff this week and revealed he remains outraged at the reaction his victory performance provoked.

"It seems as though the mainstream music media are having a field day ripping me apart at the moment, after the Diesel show because I wore a 17 century costume and a wig, and the sound engineers screwed up my show," Duke told Skrufff.

"And to quote the Sun, "if this is the state of unsigned music, then the future isn't bright"; what a bunch of c+nts," he raged.

The 24 year old Londoner had to reboot his computer for 2 minutes after sound engineers turned off his equipment without telling him before he walked on stage, then play without working monitors, though was still selected as the winner by judges including Mylo and 2 Many DJs.

In a follow up email, the clearly still cross Brit said he's seriously contemplating refusing to talk to the mainstream media 'because I'm not trying to convert middleclass housewives into dance music' though admitted his own class-consciousness is sometimes ambiguous.

"When I'm around people who I feel are middleclass for some reason, I act like I am proud to be working class, but when I am with people who I think are working class, I tend to act all middle-class," he confessed.

"I think the term is "working class snob", and almost serves as an analogy to my Duke alter-ego," he laughed.

The ultra-talented Londoner (real name Adam Dwyer) made his first production just seven months ago, delivering the standout mix on Mekon's already excellent thumping electro-growler 'Yes Yes Y'all' and more recently remixed Missy Elliot's 'We Run This', though is most excited about his own as yet untitled debut release.

"I played a sneak preview of one of the songs last week at a gig for the first time, and the reaction was massive...this is a bold claim, but that particular song in question possibly has the biggest bassline since Oizo's 'Flat Eric'," he laughed.

Mekon's 'Yes Yes Y'all' featuring Roxanne Shante (including remixes by Duke as well as the Glimmers) is out shortly on Wall Of Sound (and is highly recommended).