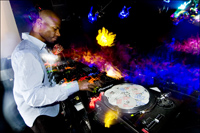 international news _ 12th October, 2006
Green Velvet's Apocalyptic Touch
Text by Jonty Skrufff (Skrufff.com)
Chicago tech-house pioneer Curtis Jones (aka Cajmere aka Green Velvet) chatted to Skrufff this week about his upcoming mix CD for Ministry Of Sound and revealed that since finding God several years ago he's started believing in End Time biblical prophecies.

"All I can say is that the word says in the last days the hearts of the people will wax cold and, though I'm always optimistic, I'm also a realist too and when I go out nowadays I do see a lot of very cold-hearted people," said Curtis.

"Whether that's a sign, I'm not sure, but it just feels to me like we don't have much longer. It seems like there are a lot more obstacles being thrown in people's way for them to be able to walk in truth and walk in love," he mused.

The hugely popular producer revealed he first spoke to God when having a bad reaction to marijuana and magic mushrooms four years ago, and said he's nowadays on a mission to do good.

"I believe in angels, I believe in devils or demons or evil spirits," he said.

"Evil is essentially that which prevents a person from loving at all times," he continued, "Anytime you're in a situation where your mind isn't focused on good thoughts and your heart isn't really filled with love that should be a sign you're following wicked ways," he continued.

"Easy obvious things to look for are racism. If a person thinks that racism is justifiable I would say that person is in darkness. Other obvious signs would be doing those things you know you shouldn't but you do them anyway. Like married people having affairs, lying and cheating," said Curtis.

Cajmere versus Green Velvet: The Sessions, is out in November on Ministry Of Sound.