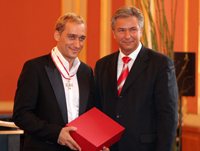 international news _ 11th October, 2006
Paul Van Dyk Wins A Medal
Text by Jonty Skrufff (Skrufff.com)
Superstar DJ Paul Van Dyk was officially recognised by Berlin authorities this week in a fancy ceremony in the German capital, where he was awarded a medal of honour (Landesverdienstorden) in recognition of his service to the state.

The trance hero, who received his gong from Berlin mayor, Klaus Wowereit becomes one of only 400 Germans holding the award, putting him alongside architects and tops arts establishment figures, much to his delight.

"This award is considerably more prestigious than the other prizes and awards I have won to date," said PVD in a statement outlining his pride.

"It stands for something that is more important to me other than my work as a DJ and producer: encouraging young people and improving their opportunities for the future," he added.

The globe trotting workaholic has remained based in Berlin throughout his career though chatting to Skrufff recently admitted he was less than impressed with the city's current club scene.

"It hurts me when I have to say it, because I love the city so much and I always support the city wherever I can, but the time that Berlin was hip and cool was about three or four years ago," he complained last year.

"Living in Berlin is much cheaper than, for example, New York, so many people moved here, but because they can easily survive, they all seem to have become very lazy," he grumbled. "This is the problem with Berlin. It always holds you back somehow. For example, if you phone your graphic designer you always find him sitting in a coffee shop or wherever, that's kind of normal here," said PVD.