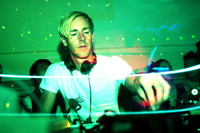 international news _ 6th October, 2006
Richie Kontakts Howells And Dope
Text by Nick Lawrence (HigherFrequency)
Richie Hawtin has been tagged by British label Azuli Records to make his selection of classics for the next edition of their "Choice" series. Already this year Kenny Dope and Danny Howells took part with their own 2CD collections which were added to the catalogue that includes many of house's biggest names like Derrick Carter and Frankie Knuckles.

Richie will only be the second non-house DJ to chip in to the Azuli series, Jeff Mills being the first back in 2004. But not to fear, Richie is no stranger to mix CDs having released his first one with John Acquavivia "X-Mix-3 - Enter: Digital Reality!" for !K7 over ten years ago.

For the month of October Hawtin will be very busy on his Kontakt tour which takes in Germany, Spain, France, Switzerland and Slovenia. While touring the Minus boss will be teaming up with labelmates such as heartthrob and Troy pierce as well as some European friends like Luciano and Sven Vath.

Richie Hawtin's "Choice" is scheduled for release on October 23.

Party Report : DE9 WORLD TOUR IN JAPAN feat. RICHIE HAWTIN and MAGDA @ WOMB (22/12/2005)
Interview : Richie Hawtin Video Interview Part 01 (22/12/2005)
Interview : Richie Hawtin Video Interview Part 02 (22/12/2005)