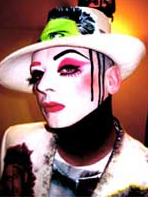 international news _ JONTY SKRUFFF _ 25th October, 2005
Boy George's New York Plot Thickens
The New York Post claimed this week that Boy George was busted for coke after a hustler he took home demanded all his money and tried to rob him in his Little Italy apartment.

"George said no and said he was going to call the police," a 'source' told the notorious gossip sheet, "The prostitute said, 'Go ahead and you'll go to jail'."

Police who attended George's call allegedly discovered cocaine at the flat and promptly arrested him, later charging him with possession. The British star was briefly detained then released on bail to return to a New York court on December 19, where he faces up to 15 years in jai if found guilty. George's openness about his sexuality and long history of cross dressing also mean he'll be particularly vulnerable if sentenced to any prison term, given the endemic violence within America's prison system.

According to Human Rights Watch's seminal report on male rape in US prisons "Newly incarcerated first offenders are especially vulnerable to sexual abuse. Lacking allies, unfamiliar with the unwritten code of inmate rules, and likely to feel somewhat traumatized by the new and threatening environment, they are easy prey for experienced inmates," the civil liberties group report warned (in 2001).

"Prisoners who self-identify as gay are much more likely than other prisoners to be targeted for rape. . . . gay inmates with stereotypically "feminine" characteristics are especially vulnerable to sexual abuse," the report added.

The scale of the continuing problem was emphasised this week in Texas as Roderick Keith Johnson concluded his civil case against prison officers who he accuses of colluding in allowing him to be used as a sex slave by prison gangs including the Gangster Disciples, Mandingo Warriors and the Mexican Mafia.

The case made the pages of the Dallas Morning News who pointed out 'In the 1999 training manual of the Texas Department of Criminal Justice, the agency acknowledged that, on average, "three out of 10 newly admitted offenders will be forcibly raped within 48 hours."
http://www.hrw.org/reports/2001/prison/report4.html
(Human Rights Watch: Victims and Perpetrators: 'A new inmate needs to come into the system ready to fight and with a strong mind . . .' 2001)


http://www.aclu.org/Prisons/Prisons.cfm?ID=15098&c=121"
('For 18 months Roderick Keith Johnson was housed at the James A. Allred Unit in Iowa Park, Texas where prison gangs bought and sold him as a sexual slave, raping, abusing, and degrading him nearly every day . . .')