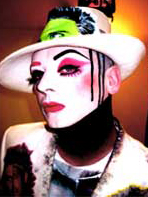 international news _ JONTY SKRUFFF _ 21th October, 2005
Boy George Lays Low In London
Boy George flew into London after being charged with cocaine possession by New York authorities this week, following an incident at his Little Italy flat when cops allegedly discovered 13 packets of cocaine stashed in his condo.

The former Culture Club singer reportedly invited cops into his flat himself to investigate a suspected burglary, and speaking after he was charged, his lawyer Louis M Freeman stressed he had no knowledge of how the drugs got there..

"Boy George doesn't know where the drugs are from. He's a very social person. He has a lot of people over to his apartment," Mr Freeman told the New York Post, "A man who has something to hide does not call the police."

The notoriously vicious New York tabloid later revealed that George had been accompanied in the flat when the cops arrived by 'Japanese fashion model and drag diva groupie' Kyoko Nagami, though by the time he arrived back in England, the story had already slipped off the front pages. Arriving at the airport, George told waiting reporters 'don't ask me any questions because you are not going to get any answers at all', reflecting his long held hostility to the mainstream British press.

Speaking to Skrufff soon after he moved to New York in January 2004, he admitted he'd long taken media vilification personally, admitting 'of course I do, I find it really insulting.'

"They're always trying to perpetuate this idea that I don't do anything, just a bit of DJing at the weekend, that I'm a sad washed up old pop star. Fuck off, leave me alone, I've never been so busy in my life," he stormed, "I wish they'd just fuck off and leave me alone."

George also spoke presciently about New York's increasingly schizophrenic character, declaring 'it's very much a city of extremes, America seems to have a puritanical streak and yet there is also a manic sexual energy too."

The cross dressing icon is due back in court on December 19 and faces up to 15 years in jail and a permanent ban from the States, said human rights lawyer Mark Stephens.

"Boy George is innocent until proved guilty but if he's found guilty it could have major implications for him to be allowed into the US. He would effectively be excluded," he told the Daily Mail, "They treat drug convictions very seriously in America."


http://www.style.com/peopleparties/parties/slideshow/010905GLBE/?iphoto=14