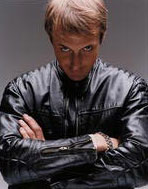 international news _ JONTY SKRUFFF _ 14th October, 2005
F**k David Guetta, He's Even More Famous (October 16)
French house DJ turned L'Oreal hair care muse David Guetta chatted to Skrufff this week about his upcoming 'F**k Me, I'm Famous party at Ministry Of Sound and denied that his higher media profile has affected his attitude towards celebrity.

"Being recognized in the street is not something I want even if it happens a lot in France," he complained, "What this advert has done is to help me have my music played all around the world on television, when the reality is that it's really hard to get your music played even on radio. I'm happy that I can share my passion with more people."

David also admitted he'd been expecting jealous reactions to the campaign and hase been surprised to receive none though chided Skrufff for asking whether he now has to worry about having 'bad hair days' when performing.

"Stop taking the piss; of course not," said David, "People are coming to listen to me and I don't think anybody cares about my hair at the kind of parties I'm playing at."

"This Ministry party is of course going to be about the music with DJs like Bob Sinclar, Martin Solveig and myself but is also about the decoration, the production and the mix of people," he continued.

"When we've done the parties in Ibiza, Paris and Miami, we've mixed up the music scene with fashion people, the underground and VIPS and that's what makes the parties magical. We're trying this in London next week, because I don't think that kind of night exists right now."

http://www.ministryofsound.com (F**K Me I'm Famous takes place on Saturday October 15 at Ministry's London headquarters- Juliet also performs live) (Jonty Skrufff)