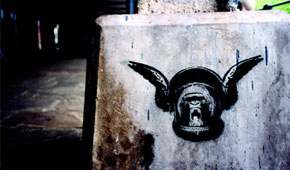 international news_22nd October, 2004
Graffiti World Exhibition at AKA, London
To mark the launch of Graffiti World, the definitive guide to the art of graffiti worldwide an exhibition will be held at AKA bar next to The End nightclub in Central London.
Opening on the 27th October until December the exhibition will showcase original work by some of the worlds best known artists including new artwork by Zaki Dee and Pride, of 80s graffiti crew Chrome Angelz, alongside those by Inkie, one of the first ever UK artists. Keinom, the German author of Graffiti World, and UK artist Kid Acne, famed for his artwork on the Ninja Tune hip hop label Big Dada, will also be exhibiting. Brighton graffiti artist She 1, Australian artist Stormie, and Nick Walker, the Bristolian who now applies graffiti to film and fashion, have all also chosen to contribute exclusive and original pieces for the exhibition.
The launch party, open to the general public from 8pm on the 27th will have an exclusive DJ set from Massive Attack's Daddy Gee alongside revered Hip Hop producer DJ Skitz. All the artists will be in attendance and a whole host of merchandise from books to painted hats will be available for visitors.
Free before 10pm 3GBP after