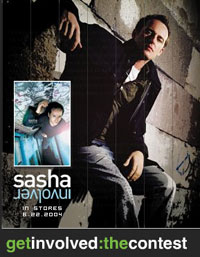 international news_17th October, 2004
Get Involved With Sasha's Remix Competition
Ableton Live is the software package responsible for an increasing number of vinyl DJ's rushing for their laptops as more and more come to realise the immense power and ultimate flexibility the program gives to music production both in the studio and at events. Allowing users to spontaneously compose, record, remix, improvise and edit musical ideas in an audio/MIDI environment it brings your acoustic, electronic and virtual instruments-as well as your digital audio recordings and MIDI sequences-together in a single interface.
Many top DJ's have been singin its praises since the day it was launched and none more so than Sasha who recently made his latest album 'Involver' entirely using Live 4producing the album while at the same time working with the developers of the software creating both a stunning album and a stunning creative tool.
Now M-Audio is giving music fans the opportunity to remix one of the tracks for themselves and at the same time have the opportunity to win a full mobile studio package from the software creators, M-Audio, and most importantly for any aspiring producer a full commercial release of the winning track.
There's only 2 weeks until the close of the competition so make sure you check out the site and start working on your winning entry!
Intl News "Sasha Involver Special Edition" (29/09/2004)
Sasha "Involver" Release Info (21/06/2004)