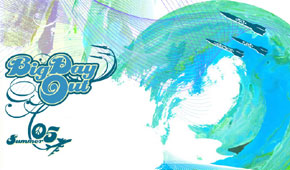 international news_14th October, 2004
Australia's Big Day Out 2005
The biggest music event down under The Big Day out has grown to become the premier music festival for music fans in Australia and New Zealand, the road trip entertaining over 250,000 people at the 6 date event.
With the lineup growing in size and scope since the beginning of the festival in 1992 the events have featured everyone from The Prodigy to Porno for Pyros, The Chemical Brothers to the Chilli Peppers. Over the years the rock acts have given way to more electronic based performers with this years event featuring an eclectic mix of artists including Beastie Boys, Chemical Brothers, Freestylers, The Streets, Infusion and Concord Dawn.
This years tour that starts in Auckland on Friday 21st January before heading over to Oz for the remaining 5 dates that takes the multistar roadshow from the east to the west. With many of the dates selling out in previous years they're likely to be snapped up quickly when they go on general release from this Friday 15th October.
Big Day Out 2005 Schedule
21 Jan - Auckland
23 Jan - Gold Coast
26 Jan - Sydney
30 Jan - Melbourne
4 Feb - Adelaide
6 Feb - Perth
Full Tour Artists
BEASTIE BOYS
SYSTEM OF A DOWN
CHEMICAL BROTHERS
THE MUSIC
THE STREETS
THE DONNAS
FREESTYLERS
POWDERFINGER
GRINSPOON
JOHN BUTLER TRIO
CONCORD DAWN
Limited Tour Artists
ESKIMO JOE (Aus Only)
INFUSION (Aus only)
BUTTERFINGERS (Aus Only)
LITTLE BIRDY (Aus only)
DALLAS CRANE (Aus Only)
MISFITS OF SCIENCE (NZ Only)
THE BLEEDERS (NZ Only)
TRINITY ROOTS (NZ Only)
D4 (NZ Only)
STERIOGRAM (NZ Only)
SHIHAD (NZ Only)