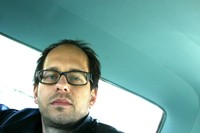 international news _ 29th November, 2006
Oliver Huntemann's Depeche Moment
Text by Jonty Skrufff (Skrufff.com)
Multi-talented German uber-producer Oliver Huntemann chatted to Skrufff this week about his prolific approach to releasing minimal, electro and techno club tracks as well as the pride he felt in being asked to recently remix Depeche Mode,

"I met Seth Holder the boss of Mute Records, at the Love Parade this year and he told me he'd heard a lot of my productions and asked me to send him some because they were searching for some remixers for Depeche Mode," said Oliver.

"I thought 'OK, unlikely but I might as well try' so I sent him my album, then two days later, he asked me to choose one of the biggest songs of Depeche Mode, whichever one I liked," he laughed.

I was like 'Oh my God!'. I was in Ibiza and I think it took me five days to decide because they've done so many good ones. In the end, I decided to do Everything Counts because it was one of their most famous and when I was young I went to see them in concert and loved them. Seth said 'go for it'."

The 30 something producer started his career as one half of Humate in the early 90s, going on to release numerous tracks as Kaycee and Dance Electric, more recently releasing as H Man and most commonly as Huntemann though if anything is busier than in his youth. He also revealed he's radically altered his work patterns since the 90s, shaping his studio life more towards a Monday to Friday regular routine.

"Normally I arrive in the studio between 10 and 11am and stay until 5 or 6pm, depending on how it is working," said Oliver.

"In the past I used to stay in the studio all night then would listen to the tracks and they'd be so bad. I had some good experiences when doing regular studio work so kept on doing that. It also makes sense because I'm not 20 years old and every weekend I'm playing in clubs in the middle of the night- I need some constancy in my life," he explained.

Oliver Huntemann's new EP German Beauty is out now on Confused Records.