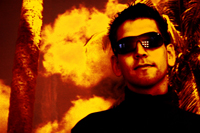 international news _ 28th November, 2006
Breakbeat Not Dead (But . . .)
Text by Jonty Skrufff (Skrufff.com)
UK breaks player Tom Real launched an uncompromising attack on the alternative genre this week and said his own sets now also include electro, minimal, techno and funk.

"Breaks seems to be lacking a certain excitement in production and interesting DJs which house, particularly more electronic, techno based sounds, seems to have at present," said Real.

"It's not that I think breaks is dead or anything, I think those at the forefront of the scene, as well as those coming through as DJs and producers need to take more risks with their sound," he suggested. (Base.Ad)

Tom's assessment was shared by former breaks dabbler Will Saul, who guested at London breaks institution Hum a number of times before realising his own blend of broken beats and deep soulful dub house was a little too eclectic.

"A lot of the crowd that go to breakbeat gigs have been, from my experience, very male orientated and probably aged between 16 and 25 and that sort of crowd don't necessarily want to hear a really melodic track or one with good strong musical ideas they're more after darker sounds and bigger bass lines," Will told Skrufff.

"In my opinion, and without being too harsh, breaks doesn't really have a strong musical thread to it," he added.

Through his label Simple Recordings Will commissioned a number of remixes from break scenesters Infusion and Evil 9 a few years back, though admitted he's unlikely to put out any more in the foreseeable future.

"The Stanton Warriors are still making fresh music though more with an urban flavour and still have a genuine appeal," said Will, "And it'll be interesting to see what the Plump DJs do next in terms of their sound and how it develops. Just because I don't think it's done anything new for a long while," he added.

Tom Real (& The Rogue Element) releases a new single 'Feel My . . .' in December, Will Saul's Pause is out on Simple shortly.