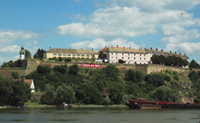 international news _ 28th November, 2006
Serbia's Exit Festival Announces Dates For 2007
Text by Jonty Skrufff (Skrufff.com)
Organisers of next year's Exit Festival have confirmed it will be happening between the 12th and 15th of July next year, at the usual idyllic location of the Petrovaradin Fortress, Novi Sad.

The massively popular three night music festival attracts tens of thousands of revellers from former Yugoslavia countries Croatia, Bosnia and Slovenia as well as increasing numbers from everywhere else, with over 3,000 Brits attending in 2006 (numbers were actually limited).

"We will be starting ticket sales within few weeks - definitely before New Year's Eve," Production Director Ivan Milivojev confirmed. "At that moment we'll be announcing the first big names and I must say that line up will be better, as it's always better then the previous year and in addition we'll be presenting a few massive events beforehand."

Next year's event is also being supported for the first time by Serbia's Ministry of Finance, who announced last week they'll be contributing 30 million dinars (roughly 10% of the festival budget) in recognition of Exit as a ''project of national importance, changing the image of Serbia in the best way'.

Exit's general manager Bojan Boskovic said they're also expecting to make a significant profit for the first time, which they're planning to plough back into local services.

"Our intention is to create a Foundation that will distribute all profits made from the festival for the benefit of society," Bojan explained,

"We started this festival to make Serbia better place for all of us and we will continue in that direction. We are just now in the process of founding the Exit Foundation."