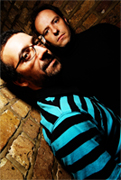 international news _ 21st November, 2006
Glimmers' Dance Floor Destroyers
Text by Jonty Skrufff (Skrufff.com)
Belgium mash-up duo The Glimmers chatted to Skrufff this week about their upcoming mix CD for Fabric (Fabric Live 31- The Glimmers) and revealed that 15 years after teaming up, they still sometimes clear dance floors.

"It's happened loads of times," the pair confessed, "but itt wouldn't have happened if we hadn't taken risks. Every time we've cleared a dance floor it's because we've tried to take the audience somewhere else. On some occasions, the dance floor didn't clear, instead the audience went crazy and we could have taken them further and further. From time to time you have to clear the dance floor and start all over again," they added,

The new mix CD includes tracks from Roxy Music, the Human League and Freeez (aka Arthur Baker) alongside LCD Soundsystem, Mekon and Prinz Thomas reflecting the pair's willingness to play anything, whether it's Madonna or even Kylie.

"It could happen. It all just depends from the crowd you're playing for; you do anything to get them moving," they admitted.

"Both Madonna and Kylie had great tracks out and the reason why they're commercial is because so many people like them. It's always nice to be able to balance popular and unknown tracks and everything else in between and using them as the right tools at the right time to suit you," they said.

Fabriclive 31: The Glimmers is out soon.
News : All That Glimmers Must Be Live (01/11/2006)