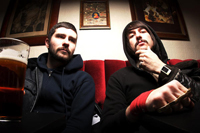 international news _ 21st November, 2006
Mstrkrft's Canadian Club
Text by Jonty Skrufff (Skrufff.com)
James F Keeler from electro duo Mstrkrft chatted to One Week To Live this week about the band's influences and his background growing up in Canada and suggested his nationality has had minimal impact on their music.

"Canada isn't a country like others I've been to," he explained, "We define ourselves by what we are not and how we are different from other places, but we don't have our own identity separate from making comparisons."

His somewhat harsh assessment matched that of fellow Canadian music maker Misstress Barbara who last year told Skrufff she felt more affinity with the culture of her Italian roots.

"In Canada and the United States the mentality is the same; there's that kind of by-the-book mentality where you can't really reason with people. And everything is so by-the-book that sometimes the rules make no sense," Barbara complained.

"People can have a gun in the United States but they can't go out to bars until they're 21. What the fuck is that?"

More recently, however, the Supreme Court of Canada struck a blow for Canadian individuality and enlightened rules, legalising group sex at private members' swinging clubs throughout the country.

"Consensual conduct behind code-locked doors can hardly be supposed to jeopardize a society as vigorous and tolerant as Canadian society," said Chief Justice Beverley McLachlin, announcing the swinging law.

"The causal link between images of sexuality and anti-social behaviour cannot be assumed, Attitudes in themselves are not crimes, however deviant they may be or disgusting they may appear," he added.

Mstrkrft's new single Work On You is out now on Modular.