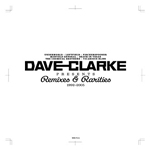 international news _ 20th November, 2006
Dave Clarke's Rarest Ideas
Text by Jonty Skrufff (Skrufff.com)
UK Techno don Dave Clarke unveiled details of his retrospective remix compilation "Remixes & Rarities" this week and revealed that he's never considered saving ideas for his own productions instead of others'.

I have never felt that way, whether I've been paid big fees or very small fees for friends, I've always enjoyed being at the desk seeing and hearing it take shape, I have never once thought 'Damn, I should have kept that for myself'," said Dave.

"If you feel like that then don't do a remix because you obviously don't have too many ideas," he added.

The new double CD includes 30 of his remixes of tracks by artists including Gary Numan, Underworld, DJ Hell and the Chemical Brothers, with Dave unsure which one he found easiest,

"I'm not sure about easiest, though the hardest might have been Slam, just because I wanted a very smooth sound," Dave told Skrufff.

"Sometimes you get masters sent to you with solo tracks split down separately in terrible sonic condition, full of jitters, or vocals recorded above 0db in digital (which gives a terrible clicking sound), or vocals recorded with a G4 fan in the background aren't too much fun to clean up either," he revealed.

"It's surprising what comes through, and I spend a lot of time cleaning things up, but in a way that helps you get even more intimate with the song, so when those things happen then it can be hard but ultimately rewarding. Sometimes there is nothing you can add to the track because it's so perfect, and those ones I refuse to do," he added.

Dave Clarke Presents Remixes and Rarities is out in January on Music Man.