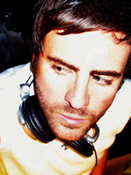 international news _ 7th November, 2006
'Cheesy Bollocks' Trance DJ Thrives
Text by Jonty Skrufff (Skrufff.com)
Outspoken English trance star Gareth Emery was the third highest new entry in DJ Magazine's latest top 100 last week, coming in at 34 (just one place below Richie Hawtin and above Nick Warren, Steve Lawler, Sven Vath and Pete Tong).

The magazine said Gareth remains best known for both his 2003 track Mistral and more recently for 'rather controversially declaring 95% of trance to be utter bollocks' (in an interview with Skrufff) which Gareth agreed this week has helped raise his profile.

"A lot of people, probably about half of them, absolutely slated me for that comment, whereas the other half agreed. So whether it's done me any good or not I don't know, although thinking back, my name was absolutely everywhere in the weeks after that as people debated it, so perhaps it has," he told Skrufff.

"All in all though, the aim was achieved – it opened up some sort of constructive debate about the quality of music in our scene, and if it's made a few people want to try producing something different rather than the same old shit, then we've all prospered," he said.

However, the highly ambitious jock conceded he sometimes plays 'a bit more accessible and less underground' on his travels these days ('every decent DJ knows you occasionally have to compromise slightly') though said he remains committed to rocking the dance floor, full stop.

"There's no way I'd change my sound or play records I didn't like," he stressed, "My choice in music is what's got me this far and I'd be a fool to change it."

He also noted the absence of more and more 'old guard' DJs from the poll and suggested the trend is set to continue.

"There's no doubt that dance music is more competitive than ever, and simply being one of the 'old guard' is no longer a guarantee of success," said Gareth.

"History only means so much: if you get lazy and stop being relevant and interesting to the people who are going to clubs right now, you'll find yourself replaced by younger, hungrier DJs who'll be more cutting edge musically and more on top of the technology," he said.