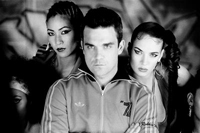 international news _ 7th November, 2006
Soulwax Save Robbie Williams
Text by Jonty Skrufff (Skrufff.com) _ Photo by Charlie Lightning
Boy-band popster Robbie Williams looks certain to achieve a bona fide club smash, with his next single Lovelight, just weeks after he embarrassingly predicted he could 'see that song being played at clubs for years to come' about his recent flop single Rudebox.

Lovelight has been radically transformed by Belgian duo Soulwax, who've turned in their best production since their 2004 electro-rock anthem, 'E Talking', and could boost William's virtually non-existent credibility.

The former Take That heartthrob gained limited kudos last year by recruiting Radio 1 late night guru Chris Coco as his tour DJ, though his highest accolade came from another ambient maestro, Alex Patterson of the Orb.

Chatting to Skrufff last year, Alex described how Robbie first spotted him playing chess on Top Of The Pops when Take That were also on the show in the mid 90s, prompting the pair to record a bizarre cover of the Bee Gees anthem 'I Started A Joke' some years later.

"He's a really sound geezer (good guy), he made me feel like I was in Take That for a couple of days," he told Skrufff.

"Soon after I was DJing at a club and had the Bee Gees track in my box, so I bunged it on. Robbie came running over, shouting 'I ain't got a copy of this', which made my girlfriend happy because she got to meet Robbie Williams. He's as genuine as he can be in the circumstances he's in. He's sound," he added.