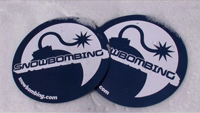 international news _ 2nd November, 2006
DJ's Snow Addiction
Text by Nick Lawrence (HigherFrequency)
Once again your favourite DJs will be strapping on their snowboards and skis and heading to the Snowbombing festival that is set to run in April next year from the 9th until the 15th.

Held in Mayrhofen Austria the festival promises partygoers a chance to enjoy the fresh fallen powder snow by day and by night let the electronic beats massage their weary bodies. Making the trek up the event for the mountain will be recent "At The Controls" mix CD contributors M.A.N.D.Y and the popular poindexter James Zabiela.

Other names on the first round line up announcement include Sould Of Man, James Lavelle, Evil Nine and electro loving rock act Justice who recently toured Japan with Erol Alkan as part of a Diesel-U-Music event. Parties during the week long event will be hosted by various groups including Get Physical, Ed Bangers and Rob da Bank's Sunday Best.

The first Snowbombing was held in 2000 and since then has attracted thousands of Brits to the Austrian skiing haven of Mayrhofen, partially thanks to some news coverage the event received on the BBC news in '05.

DJ Lineup :
Scratch Perverts, James Zabiela, Justice, M.A.N.D.Y., Evil Nine, Tayo, James Lavelle, Annie Mac, Joe Ransom, Soul Of Man, Jeff Automatic, Justin Robertson, Ame, Lopazz, Touche Heidi, Williams, Barry Peters, Scott Nixon, Different Strokes, Frank Tope, Tayo, Greg Wilson, DJ Mehdi, Elliot Eastwick, DJ Feadz, Busy P, Todd Terje, Bill Brewster, Earl Gateshead, MC Chucky Banton, MC Super Four, Sinden, Tricksi, Trevor Loveys, Sombrero Sound System, and more...

Live Lineup :
The Young Knives, Kid Carpet, The Sunshine Underground, The Cuban Brothers, The Enemy, Rumble Strips, Louie Austen, Pull Tiger Tail, Guilty Pleasures, Mr Hudson & The Library, Vincent Vincent and the Villains, and more...
Party Report : GAN-BAN NIGHT SPECIAL [BREAK ON THROUGH] Vol.5 x DIESEL-U-MUSIC 2006 (06/10/2006)