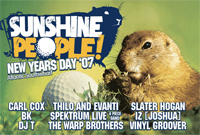 international news _ 2nd November, 2006
New Year's Sunshine
Text by Nick Lawrence (HigherFrequency)
One of the first festivals off the block for the year 2007 seems to be Australia's annual Sunshine People event. The New Years Day party which held on the banks of the Yarra River in Melbourne returns for another year of fun with five separate arenas and even a boat cruise powered by the sounds of prog.

This year the headlining acts will be flown in from all around the world including main man of techno Carl Cox, Groove Magazine founder DJ T, and electro foursome Spektrum. Also making their way over for Sunshine People will be American DJ Iz, minus his partner Diz, and Riot! Recordings co-owner / UK Hard Dance luminary BK.

Sunshine People is a relatively new event starting only in 2003. In its inaugural year the event attracted international DJs Tiga, CJ Bolland and Kai Tracid alongside Melbourne local DJs to a sell out crowd.

Sunshine People 2007 will be held at Atlantic Wharf, Melbourne on January 1.

Lineup :
Carl Cox
DJ T
Spektrum (Live)
BK
Thilo And Evanti
The Warp Brothers
Slater Hogan
Iz [Joshua]
Vinyl Groover
And more...