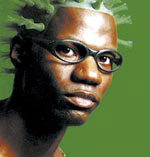 international news_17th November, 2004
The End, London Celebrates It's 9th Birthday
One of the most respected clubs for quality electronic music in London, The End is fast approaching it's 9th birthday due on the 4th of December and as you may expect from a club that has retained the quality and integrity of it's music choice right from day one, it's going to be a cracking party.

Green Velvet is guest of the night making a rare UK appearance alongside the mighty Mr C and Layo and Bushwacka! playing an alternative set in AKA. With promised birthday surprises and treats throughout the night get ready for a birthday party you won't forget.

It's been another hugely successful year for The End. Top jocks from around the world have got behind the decks at a multitude of nights arranged by the club themselves as well as the coolest and most respected local promoters. Highlights of the year were Laurent Garnier with his series of mind blowing parties, appearances from Techno's top guns Richie Hawtin and Jeff Mills, Groove Armada, Mylo, the list is endless.

For full details on the club check out their website and if you're ever in London, especially for their birthday weekend, GO TO THE END!