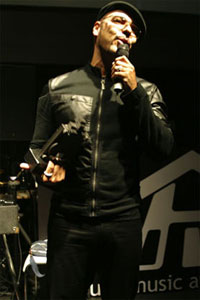 international news_7th November, 2004
2004 House Music Awards
The first House Music Awards took place last night at exclusive west London club Neighbourhood, with an array of house music stars music turning out to honour those at the forefront of the scene.

Taking away the most prizes on the night were UK house label Defected Records who walked away with a grand total of 6 awards including Label of the Year, Artist of the Year and Album of the Year, both from the man of the night, Junior Jack.

Roger Sanchez picked up the award for DJ of the Year graciously presented by member of Everything But The Girl and Buzzin Fly Records boss Ben Watt before playing a surprise hour set much to the delight of the industry folk and the few lucky fans who were present.

Music was the reason for the awards and the organisers put on a massive lineup of live acts and PA's from some of the best singers and producers in the business. Highlights of the night had to be Reel People who blew the crowd away with their groovy house vocals and their amazingly talented drummer.

Special guests for the evening included David Morales, Normski, Danny Rampling, Marshall Jefferson, a surprise visit from an M.P. and of course all the winners as well as Frankie Knuckles, who was presented with an award for Contribution to house music.
House Music Awards 2004 - Winners List
Presented by Danny Rampling
Breakthrough Producer - Tom Neville
Breakthrough Label - Buzzin Fly
Pioneer Breakthrough DJ - Nic Fanciulli
Presented by Bobby & Steve
Most Innovative Producer - DJ Gregory
Album of the Year - Junior Jack "Trust it"
Onephatdeeva Outstanding Vocal - Ron Carroll "Back Together"
Presented by Sandy Rivera
Best Independent Store - Juno
Outstanding Live Performance - Chemical Brothers
Best Club Night - We love Sundays @ Space
Outstanding Remix - Wally Lopez for David Guetta's "Just a Little More Love"
Best Venue - Pacha Ibiza
Presented by Oona King, MP
Outstanding Radio Show - Pete Tong's Essential Selection
Presented by Ben Watt
Label of the Year - Defected
DJ of the Year - Roger Sanchez
Artist of the Year - Junior Jack
Presented by Normski
Standout Event WMC - Defected @ The National
Standout Track WMC - Shapeshifters "Lola's Theme"
Best Magazine - DJ Mag
Best Radio Station - Radio 1
Best Web Resource - Ministry of Sound.Com
Most Innovative Technology - Pioneer CDJ1000
Presented by David Morales
Contribution to House Music - Frankie Knuckles
Presented by Roger Sanchez
Essential Selection Track of the Year - Shapeshifters "Lola's Theme"
Intl News "House Music Awards" (21/07/2004)