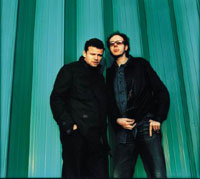 international news_3rd November, 2004
Chemical Brothers Announce New Year Plans
Ed and Tom Chemical have announced that London club Turnmills will be the dancefloor they'll be pack out on the 31st December for their last gig of 2004, weeks before the release of their new studio album, scheduled for release in January 2005.
Having a close relationship with the East London club since their early days first holding the Heavenly Social events there and more recently their Glint parties Turnills was their first choice of London venues to celebrate the end of the year and showcase new tracks off their album.
Joining the pair will be a smashing lineup in the main room. Justin Robertson, fresh back from supporting them Chems on their South American tour and from collaboration with Fatboy Slim on his recent album, Lottie, Brixton boys Mutiny and Southern Fried Records boss Nathan Detroit who also happens to be the resident at the Chemical Brothers' Glint events.
The back room will be Madchester madness with Shaun Ryder and Bez from the Happy Mondays keeping the vibes alive along with Clint Boon from Inspiral Carpets and ex Hacienda resident Graeme Park keeping the Manchester connection strong.
A limited number of 35 GBP advance tickets are available now.