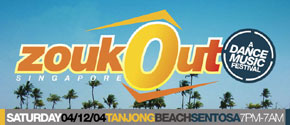 international news_3rd November, 2004
Zoukout in Singapore
Singapore's biggest electronic music event takes place again this year on the 4th of December this year with nine big name international stars joining the local heroes for a 12 hour all night mashup on Tanjong beach in Sentosa.
The festival, now in its 4th year of existence, used to be a 2 day event but after uneven turnout last year, 3,000 people on the first day, 15,000 on the second, the organisers have decided to stage the event over an intense 12 hours.
The people behind the festival are the team responsible for Zouk Singapore, the country's most popular nightclub and stop off for most global tour DJs. They've put together an all star line-up for the country's dance music fans with Paul Van Dyk, Timo Maas, Seb Fontaine, Satoshi Tomiie, Joe Claussell, Miguel Migs with Lisa Shaw on live PA, Rainer Truby, Pippi, Jazzy Jeff and all the Zouk residents, with Maniam on percussion and Mambo Jambo rocking the crowds until the early hours.
To add to the outdoor festival feel, there will be costumed buskers, dancers and carnival-rides, food stalls, flea markets, screenings, live graffiti, mandala art, chill-out areas, massage and holistic tents as well as the Singapore date of the global Resfest video exhibition.
Tickets for the event are 48SGD on the door or 38SGD in advance before December 3rd.