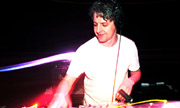 international news _ 29th May, 2007
Fabric Mangle Minimal
Text by Jonty Skrufff (Skrufff.com)
London clubbing organisation Fabric unveiled details of the upcoming mix CD by Ewan Pearson this week and in its accompanying press release launched an unexpected onslaught against 'soulless' minimal dance music.

"With minimal being the prevailing theme of the techno world, the musical equivalent of writing a word over and over until it has lost all meaning, it's refreshing to stumble upon someone as anomalous as the highly inventive Ewan Pearson," the Fabric press release declared, "11 years on since his first record was pressed, it's quite obvious has undoubtedly found his groove – and his sound is anything but soulless or uninspired."

Ewan Pearson was equally scathing declaring "what I don't like is hearing hours of the same sort of thing,at the moment, I love techno but I don't just play sort of minimal clicky stuff. What bores me is when everyone is doing the same thing."

Chatting to Skrufff several months ago the usually acclaimed producer/ DJ was less forthright, admitting he feels occasional self doubt about his own tracks and remixes.

"I always find it quite heartening when I read about people talking about they hate what they do," he said.

"I remember reading an interview with Paul Auster- the novelist – and he hates every book he's ever written. He loves writing them and he is compelled to write them, but by the time he's finished them, he thinks they are appalling pieces of trash. I find that heartening, because if you sit there and think something you've been working on for ages is rubbish, it's quite heartening to see that the people you think very highly of, experience the same doubts," he said.
News: Ewan Pearson Makes Fabric (24/05/2007)