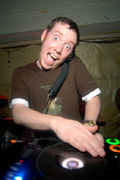 international news _ 21st May, 2007
Tim Deluxe's No Romantic Rave
Text by Jonty Skrufff (Skrufff.com)
UK garage pioneer turned dirty house hero turned rocking electro type Tim Deluxe chatted to Skrufff this week about his pile driving new dance floor smash Let The Beats Roll and revealed he's happy with new rave style anything goes attitude of clubland.

"The club scene has changed a lot, it's definitely peaked in the last few years and the bubble has burst," he suggested. "It had to though in fairness though, it got to the stage where people would be like 'how big can we get, oh I know, let's do a party on the moon. It has gone back underground again which is a great thing and has totally moved on."

The one time Spiral Tribe raver went on to become one of London's biggest house producers with hits like Just Won't Do and speed garage anthem Ripgroove (released as Double 99) though recently pruned his equipment after circumstances intervened.

"I had a big studio but the landlords sold the building so I've had to downscale a bit," said Tim, "And yes, there is some of my equipment that I don't use anymore and find it easier to do things with software."

"Laptops have changed production," he added, "On the one hand it makes things easier and less expensive to make a record now, but on the other hand a lot of music sounds the same because everyone has the same equipment and sounds."

His loss of his Shoreditch studio happened after he produced Let the Beats Roll, which came to life when Audiobully Simon popped in there to pick up some parts for a remix of Ripgroove.

"We where chatting and shooting the breeze, I played him some album tracks and backing tracks then the next minute he said 'turn the microphone on, I've got a vibe for the backing track'. which is now "Let The Beats Roll". It was a great natural session, which is how I most enjoy making music," he laughed.

He's also now lost a place to hang out with Spandau Ballet drummer John Kemp, though said the pair are still close.

"I go to the Arsenal with John every home game pretty much, we are BIG Gooners (Arsenal fans)," Tim said, "He has played and co wrote a couple of tracks on the album, we are good mates."

Let The Beats Roll is out on Skint Records shortly.
Interview: Tim Deluxe Video Interview in Tokyo(15/07/2006)
Party Report: TIM DELUXE JAPAN TOUR 2006 @ WOMB, TOKYO (14/07/2006)
News: Tim Deluxe's VIP Aversion (28/06/2005)