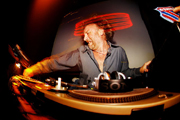 international news _ 17th May, 2007
New Order's Peter Hook Calls It a Day
Text by Jonty Skrufff (Skrufff.com)
New Order bass player Peter Hook confirmed that he's left the seminal dance band this week, and said on his Myspace page that he'd been thinking about quitting for ages.

"I suppose it was the interview with Clint Boon that started it all off. He asked me for a few words on Perry Farrell's Satellite Party single Dogstar [which he thought was great] so I went on and lo and behold mentioned the New Order split so I suppose because it was me saying it, it was out at last," he said.

"I'm relieved, (I) really hated carrying on as normal with an awful secret so let's move on, shall we?"

Throughout the 90s, stories regularly surfaced in the media of New Order splitting as they concentrated on solo projects, though chatting to Skrufff foutr years ago, Hooky said they never actually broke up.

"We came close to it because I think we blamed each other for all the problems, though the wonderful cleansing aspect to the situation was being taken out of New Order and having to begin again with our solo stuff," he said. "That meant you had to climb a lot more steps, which made you realise what you'd previously had. After a few years, I understood that I loved the music but hated the business side so when we got back together to start doing music, it was easy to start again," said Hooky.

Skrufff man-in-Berlin Mark Reeder, a long term friend of New Order who was also instrumental in turning them on to dance music after Joy Division finished following the suicide of Ian Curtis, paid tribute to the band and their impact on dance culture.

"Undoubtedly, New Order's impact was immense. they successfully managed to fuse guitar rock music with electronic disco, Blue Monday ultimately paved the way for rock fans to be able to dance to disco music without embarrassment and that idea in turn, went on to become the Hacienda and eventually develop into rave and then techno," he said.

"New order symbolised everything that a credible "indie" band needed. They were always cutting edge and their music had authenticity, art, design and simplicity. Plus, anyone could sing along to Bernard's vocals."

"But having said that. Hooky may say that New Order have split, but maybe it should just be seen that Hooky has left?" he added.

Bernard Sumner was understood to be on a sailing holiday crossing the Atlantic when Hooky made his statement, so has yet to comment on the split.
Interview: Peter Hook Interview in Tokyo (15/04/2006)
News: Hacienda Fans Get Hooked (03/03/2006)