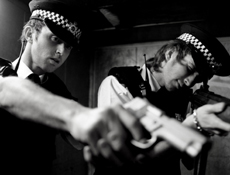 international news _ 2nd May, 2007
Coburn's E Bay Error
Text by Jonty Skrufff (Skrufff.com)
Psy-trance legend turned electro-rocker Tim Healy from Coburn chatted to Skrufff this week about selling his old trance records on Ebay and revealed that his impatience with the speed of online selling lead to embarrassing consequences,

"I just saw all this vinyl gathering dust, gave it a listen, realised that no part of me could relate to a single second of the productions, and in a bored moment stuck a few on ebay," he recalled, "The mad thing was that before I knew it, Transwave's debut album on Step 2 House (including several tunes at 150bpm) had been bid up to £30."

"But item by item sales on ebay is almost as dull as maintaining your myspace page, so I got this guy round and he paid me £500 for a load of old 12"s –wonderful," he continued.

"Then I walked past his 2nd hand shop in Brighton and he had a sign in the window:'Tim Healey's trance collection – for sale inside' . . eek."

The one-time psy-trance star is nowadays better known for being one half of Coburn, though was keen to avoid being lumped in with any genres.

We've been doing our thing for years, and paying little attention to "buzz words" like 'mash ups' what has come to be known as "electro" and now there's this "indie cross-over/new rave" malarkey," said Tim. "They are all styles of druggy-dance music we could claim to have kick-started, but what's the point when the world has finally clocked that Coburn just are: Coburn."

"We are genuinely free-style, as our productions and Dj sets more than prove. We play at events around the world famous for a specialist sound, like Japanese rock festivals, German electro-house clubs, break-beat nights in Australia, even psychedelic trance dos in Brazil – and our sound goes right off – so we must be getting something right," he said.

The band release new single 'Rolling Stoned' shortly, a cover version of the Temptations' classic Pappa Was a Rolling Stone, inspired as much by the brilliance of the original as its sentiment, he said.

"We just couldn't believe no one had done it yet," he laughed, "And how much do we relate to its lyrics? We live every day like its our last, and we constantly give thanks to The Lord almighty, without whose guidance we would never have made it this far. I love you, Jesus," he laughed.
Interview: Coburn Interview via Email (10/03/2006)