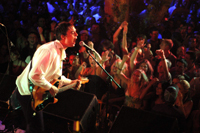 international news _ 30th May, 2006
Manumission Get Their Rocks Off
Text by Jonty Skrufff (Skrufff.com)
Ibiza club promoters Manumission confirmed this week that they're expanding their series of live music events Ibiza Rocks, presenting an entire season of live shows at San Antonio's Bar M.

The beachfront disco/ bar has been converted into a full equipped live outdoor venue and will be featuring performances from bands including Dirty Pretty Things, Editors and Boy Kill Boy, with UK TV station Channel 4 broadcasting a number of the shows.

"A lot of people were sceptical when we launched Ibiza Rocks last year, but now it couldn't be more different," said Manumission promoter Andy McKay on the new changes,

"We recognised the sheer thirst for live music in Ibiza and we were the first to introduce band culture into club culture. The success has proven that we can forget club culture rules and let rock lead the way in its own right in Ibiza. This year the emphasis will be more on stand alone Ibiza Rocks gigs in our bar, Bar M at 9 or 10pm in the evening, making the best new live music even more accessible."

The press release accompanying Andy's announcement included a triumphant quote from NME, declaring 'No longer can we look to Ibiza with the judgemental rectitude of an indie elite...Ibiza is ours now! Let the colonisation commence', illustrating the impressive success of the house promoters' willingness to diversify. Chatting to Skrufff last season, Andy admitted that certain rival dance music promoters had been less than supportive, though stressed they were in it for the long haul.

"It's early days but we did get about 150 hardcore Libertines / Babyshambles fans out for our opening, and with Ibiza Rocks we are seeing a different kind of energy which is really refreshing," said Andy.

"The bands are genuinely happy to have been invited, and we watch musician after musician falling in love with an island that surpasses their expectations. There are some great characters in some of these bands too, this is raw young energy that the island needs."