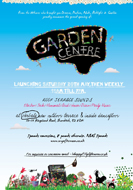 international news _ 16th May, 2006
Nude Drama Don Launches Saturday Afternoon Gardening Club
Text by Jonty Skrufff (Skrufff.com)
Ubiquitous London club promoter Terry Hart is launching a Saturday daytime event The Garden Centre on 20th May, which takes place at Herbal's new outdoors terrace and upstairs dance-floor.

The weekly event opens at 11am every Saturday morning and is aimed at 'dirty stop-outs' including revellers from after parties including Terry's own Friday night Red Light after-hours club and 'anyone who wants to spend their Saturday afternoon in a little oasis in the East End'.

"The gardening theme is a piss take on what 'normal' people normally do on a Saturday afternoon; visit Garden Centres," Terry told Skrufff.

"Herbal's new roof terrace holds about 150 people and is the only one of its kind in Central London," he continued. "If it rains we continue shopping inside i.e. we take all of the production and people inside, spread across Herbal's two levels. Just think indoor plant section at your local Garden Centre," he explained.

The club's musical policy starts off 'electro/tech/ minimal house' switching to a 'roof terrace' selection of disco and rock then deep house and acid.

"Is Saturday the new Sunday? Sure it is," Terry concluded. "Sundays have become so saturated, we think it's time to give the people something new."

The Garden Centre runs from 11am-7pm Saturday at Herbal, Kingsland Road, and launches on May 20.