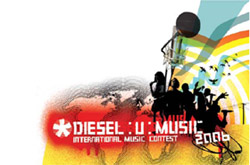 international news _ 12th May, 2006
New Music Fuelled By Diesel
Text by Nick Lawrence (HigherFrequency)
At the start of this month the submission round of the Diesel-U-Music International music contest began. Hopeful entrants all around the world have until June 25th to submit up to three tracks along with a pretty photo and brief description of themselves to impress the judges. The music falls into three categories: Rock, Urban/Hip Hop and Electronic and will be distributed across six regions: Belgium, Japan, Italy, UK, USA and Around the World.

Once officials have made their decisions the lucky finalists will be subjected to brutal public scrutiny with only the strongest left standing. At this stage 18 anxious acts will be biting their nails as the adjudicators are called into deliberate for a final time. Once this agonizing phase is complete, one victorious artist will remain standing from each region and will be granted the opportunity to perform live at a huge celebratory London event held sometime in October this year.

The Diesel-U-Music contest has been running since 2001 and now as it enters its sixth year the people at Diesel have partnered up with Sony and Billboard to add some extra oomph to the music industry contingent. Past years have produced winners like Mylo, Tom Vek and We Are Scientists so the incentive for artists to put themselves up for the critique of the Diesel-U-Music process is considerable.


Party Report : Real Grooves Vol.11 feat. Steve Bug Bugnology 2 CD Release Event Supported by Diesel-U-Music @ SpaceLab Yellow, Tokyo (22/04/2006)
Party Report : Diesel Fall/Winter 2006 Fashion Show After Party feat Felix Da Housecat @ New Takanawa Prince Hotel (06/04/2006)
Party Report : Diesel-U-Music Awards 2005 feat. Tim Deluxe, BT & Adam Freeland @ ageHa@studio coast (15/07/2005)
Party Report : Interview : Mylo Email Interview (22/07/2005)