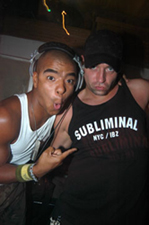 international news _ 2nd May, 2006
Morillo & Mates Return To Ibiza
Text by Jonty Skrufff (Skrufff.com)
Morillo & Mates Return To Ibiza Steve Angello, Felix Da Housecat and David Guetta are amongst DJs joining Erick Morillo at his upcoming Subliminal Sessions this summer, which kicks off at Pacha on Wednesday June 7.

The New Jersey funky house don will also be accompanied by Seb Fontaine and Subliminal stable-mates Harry Choo Choo Romero, as well as Jorge Jaramillo, unless something drastic happens that keeps Jorge away.

Chatting to Skrufff recently, the born again Christian revealed that movies such as the Da Vinci Code are fulfilling Biblical End Time Prophecies by ridiculing Jesus, with plagues, death, destruction and famine coming soon for all non believers.

"I won't be around then because we get Raptured (saved, taken off the Earth)," Jorge told Skrufff.

"It's only the people that get left behind that go through the seven year Tribulation," he added.