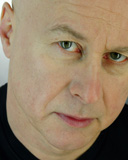 international news _ 27th March, 2007
Graham Gold Goes To Heaven
Text by Jonty Skrufff (Skrufff.com)
UK house stalwart Graham Gold is relaunching Peach some three years after his long-running London club disappeared after a 10 year run.

The weekly house and trance club ran for over ten years at Camden Palace (nowadays called Koko) though this time re-opens at Heaven as a monthly with guest DJs the Soul Avengerz and Darren Pearce confirmed plus newer names including Aly & Fila, Bobina and Mike Shiver on the schedule for later dates.

"Peach was always at the cutting edge and remember, we were the first to bring Tiesto, Ferry (Corsten), Armin (van Buuren), The Flash Brothers and Abel Ramos to the UK," Graham said.

"The brand new owner (of Heaven) has not scrimped on promotion or production so I totally know our parties are going to rock and remind London of all they have missed since those glorious days of Peach at the Camden Palace," he promised.

Peach's imminent return is likely to provoke interesting reactions from Britain's dance press which has frequently found itself facing furious tirades from Graham in the past after he objected to negative coverage. Four years ago, Graham told Skrufff he 'laughed his head off' when Ministry Magazine closed down, soon after several features had mocked him mercilessly.

"There's that expression that any press is good press whatever it says and I used to be in Ministry magazine once a month about various things," he recalled, "But the problem was that some of their writers were asshole, f**king journalists who knew jackshit and had been in the business for five minutes."

More recently he got into a colourful row with Mixmag on the magazine's letter's page, not long before EMAP sold the then ailing title to independent publishers Development Hell (who promptly recruited a new team).

"Most of the people at Mixmag know fuck-all about music, nor do they care about the scene we are in, they don't know me, they have NO FUCKING IDEA of the work I've done over the last 25 years and they aren't fit to lick my shoes," Graham swore, in a typically eloquent rant, "They haven't been to my gigs so what F**KING right do those c**ts have to slag me off," he roared.

Peach opens on March 30 at Heaven.


News : Graham Gold Curses Mixmag(26/04/2005)