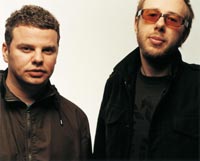 international news _ 27th March, 2007
The Chemical's 6th
Text by Len Iima (HigherFrequency)
The details for the Chemical Brothers eagerly awaited, highly anticipated 6th album have been released. It has been two years since their last album "Push The Button". Although at this time only the title of the album "We Are The Night" has been announced, the tracklisting will most likely be published in the near future.

Along with this news, the Brothers have announced they will play a special show at Roundhouse in London on May 31st (possibly a taste of things to come from the album?) which will kick off their tour of Europe, seeing them through most major cities in that continent.

"We Are The Night" will be released in June off Freestyle Dust/ Virgin Records. More details to come when they are announced.


News : Chemical Brothers Straight in at Number 1! (01/02/2005)
The Chemical Brothers Official Site
The Chemical Brothers MySpace Page