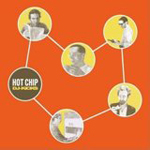 international news _ 23th March, 2007
DJ Kicks With Hot Chips
Text by Len Iima (HigherFrequency)
The latest entry in the "DJ Kicks" series is being taken care of by Hot Chip. Some previous artists who have been featured include Kruder & Dorfmeister, The Glimmers, Chicken Lips, Carl Craig, and Tiga.

This 5 man electro-pop group from London is fronted by Joe Goddard and Alex Taylor. Since their debut album "Coming on Strong" Hot Chip has done just that by playing out at some of the biggest festivals and events around the world. They have appeared at Glastonbury, Big Day Out, Sonar and will be at this year's Coachella and Bonnaroo Festival.

Their selection for this mix is as varied as the members of the band. From new wave icon New Order, Jazz legend Etta James, to Minimal House stars Dominik Eulberg and Gabriel Ananda, this CD rolls them all in one. Even the master of the ivory's Ray Charles is brought in for the outro.

"DJ Kicks: Hot Chip" will be released on May 21st.

Tracklisting
01. Grovesnor / Nitemoves
02. Positive K / I Got A Man
03. Gramme / Like You
04. Subway / Persuasion
05. Soundhack / B1
06. Tom Ze / Cademar
07. Hot Chip / My Piano (DJ-Kicks)
08. Wax Stag / Short Road
09. New Order / Bizarre Love Triangle (Shep Pettibone Extended Remix)
10. Young Leek / Jiggle It
11. Etta James & Sugar Pie DeSanto / In The Basement, Part One
12. Black Devil Disco Club / On Just Foot
13. Dominik Eulberg / Der Buchdrucker
14. Grauzone / Film 2
15. This Heat / Radio Prague
16. Wookie / Far East
17. Gabriel Ananda / Doppelwhipper (Live)
18. Marek Bois / You Got Good Ash
19. Lanark / The Stone That The Builder Rejected
20. Pete Um / The Man's Got Me Beat
21. Noze / Love Affair
22. Audion / Just Fucking (Roman Flügel's 23 Positions In A One-Night Stand Remix)
23. Joe Jackson / Steppin´ Out
24. Ray Charles / Mess Around

News : Glimmer Twins- Too Many DJs; Too Much Pressure(17/03/2005)