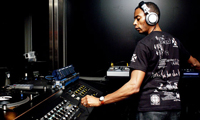 international news _ 20th March, 2007
Jeff Mills Seeks Fashion Fortune
Text by Jonty Skrufff (Skrufff.com)
Detroit techno legend Jeff Mills and his wife Yoko Uozumi opened a high fashion boutique 'Gamma Player Shop' in Chicago this week, selling clothes by designers including Gilles Rosier from Paris, Firma from Berlin and Yoshiko Creation from Japan.

The duo have chosen the clothes themselves in downtime from Jeff's relentless international touring schedule and are targeting slimmer fit customers ("Those of us who wear a 44 or 46 have to shop in the younger boys section here", he told GQ magazine) as well as like-minded types.

"Gamma player means one who travels beyond boundaries. A participant in the game of chance who manages the risks involved in hope of achieving more than just a satisfactory outcome", a statement explains on the shop's accompanying website.

"Our weapon of choice is fashion. Not just any fashion but with emerging designers that make their mark in society by clashing with the predictable and commonly accepted. Gamma Player arrives by the rays of distant stars and unknown worlds."

The superstar DJ's fashion ambitions match and even exceed those of fellow US DJ Roger Sanchez who told Skrufff in January he's also planning to enter the fashion business, though by designing his own collection.

"It'll be fashionable but a bit more urban and funky," said Roger of his design strategy.

"My type of vibe is along the lines of Buddhist Punk; Buddhist Punk meets a more fitted style like Dirk Bikkemberg type of design," he added, "A little bit more fashion but not as polished as a full on Dirk Bikkemberg, somewhere in-between."


Party Report : JEFF MILLS WEEKLY RESIDENCY 2006 "ONE MAN SPACESHIP" @ WOMB, TOKYO(27/10/2006)
Video Interview : Higher Frequency Video Interview -Jeff Mills-(13/10/2005)