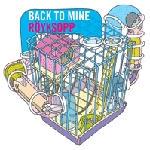 international news _ 19th March, 2007
Back To Royksopp's
Text by Len Iima (HigherFrequency)
From the Norwegian duo that brought you classic anthems like 'Eple' comes the latest installment of the "Back To Mine" series.

This series is a selection of tracks that the artist personally listens to at their home or while lounging. Previous artists who have compiled an album include Faithless, Lamb, Tricky, Groove Armada, Nick Warren, Carl Cox and Underworld. Many of the selections are not what youíd expect from the artist on the cover making these CD's widely popular among a diverse audience.

Royksopp's choice of song's include many old school and/or underground tracks ranging from New Wave, early Electro, Funk and even touch on a bit of RnB. This CD also features an exclusive 'hidden' track from Royksopp under their alias Emmanuel Splice.

"Back To Mine" will be released on April 2nd off DMC music.


Tracklisting
01. Talking Heads / Born Under Punches
02. Harry Thumann / Sphinx
03. Kasso / One More Round
04. Pino Díangino / Ma Quale Idea
05. Edgar Winter / Above & Beyond / Ray Mang & Nathan Dítroit / Off Side
06. Mr Flagio / Take A Chance
07. Mike Oldfield / Charleston / Emmanuel Splice / Meatball
08. Jesse / Thatís Hot (Joey Negro Re-edit)
09. Art Of Noise / Legs
10. I Level / 3A.M. Give Me
11. Klein & Mbo / Dirty Talk (European Connection)
12. Supermax / It Ain't Easy
13. Idris Muhammad / Could Heaven Ever Be Like This
14. Guy Dalton / Night People (New York Club Mix)
15. Valerie Dore / Get Closer
16. Ginny / Canít Be Serious
17. Funkadelic / Iím Never Gonna Tell It
18. The New Birth / Itís Been A Long Time

Interview : Royksopp Interview in Tokyo (09/05/2005)