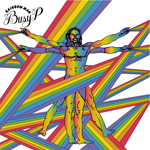 international news _ 14th March, 2007
Busy P Challenges P Diddy
Text by Jonty Skrufff (Skrufff.com)
Paris music mogul Pedro Winter chatted to Skrufff this week about his rapidly developing solo music career as Busy P and confirmed that his ultimate goal is to dump Ed Banger Records and Daft Punk for a life of pop stardom and uber-celebrity.

"Thatís exactly the idea, precisely," Pedro confirmed, "Iím just using Ed Bangerís artistsí power to bring me to the top. Iím like P Diddy; they make the hits and I eat," he laughed.

The shamelessly Gallic label chief has been picking up props for his achingly hip debut EP Rainbow Man, which includes perfectly formed Baille Funk style anthem 'Chop Suey'. Initially released on Arcade Mode last year, the 3 minute ghetto-tech anthem builds around a filthy bassline and even filthier male vocal, which Pedro confessed is more than it seems.

"Itís me with one litre of rum in my body," he claimed, "No, it's a sample of 2 Live Crew, they know how to talk about girls- so romantic."

The track, which is the strongest release Ed Banger have put out since Justiceís Waters Of Nazareth, looks certain to boost his reputation far beyond running Ed Banger and his other day job of managing Daft Punk, which he admitted already bring benefits.

"I have Arnold Schwarzenegger's mobile phone, Pharrell Williams is sending me hoodies every month and I donít queue at Fabric," he boasted. "And Richard Branson says Iím his master- what else is there?"

"Rainbow Man" is out on March 19 on Ed Banger Records.


News :Winter In Brazil- Not Such A Daft Punk(24/11/2005)