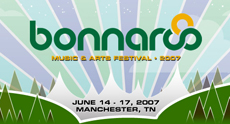 international news _ 5th March, 2007
Really Good Time Equals Bonnaroo
Text by Len Iima (HigherFrequency)
Since its debut in 2002, Bonnaroo Music and Art Festival has offered something for everyone. Whether itís chart topping artists, underground legends, up and comers or some combination there of, music fans of all tastes and backgrounds have gathered each year in a remote field in Manchester Tennessee.

This four day event has two main stages with a capacity of around 130,000. In addition to these, there are three music tents, an art tent, a marketplace, a theatre and various other attractions to keep those with short attention spans happy. As in previous years, the organizers are holding a design contest and are offering a pair of tickets for the winners.

Most notably, Sasha and Digweed have been confirmed as well as DJ Shadow. Since there is still time before the festival, you can be sure more electronic artists and DJís will be added to the bill.

Bonnaroo Music and Art Festival will be held from June 14th to the 17th in Manchester, Tennesse.