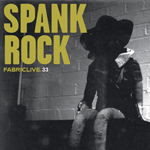 international news _ 2nd March, 2007
Spank The Fabric
Text by Len Iima (HigherFrequency)
The latest in the "Fabriclive" series gets done up by Baltimore based quartet Spank Rock. Born and raised in pretty much the same neighborhood, it was inevitable that these like minded individuals would cross paths and venture down the same musical path. Made up of Naeem Juwan (MC Spank Rock), Chris Devlin (DJ Chris Rockswell), Alex Epton (Armani XXXchange) and DJ Ronnie Darko, their approach and sound have got them critical acclaim and although they have been going at it for some time, their huge success has come almost overnight.

For their Fabriclive mix, they have gone to a great extent to bring each individual's style (and taste) to every cut. They've even recorded their own sound effects in an effort to separate their sound from fellow Big Dada DJ/producer Diplo, who was responsible for "Fabriclive 24".

"Fabriclive 33" will be released on April 16th.

News : Tayo Breaks Up Fabric(12/01/2007)
News : Stanton Warriors Get Live(08/09/2006)