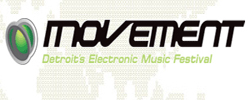 international news _ 1st March, 2007
More Movement In Detroit
Text by Len Iima (HigherFrequency)
With such a bitter sweet history rivaling a TV drama, complete with trials and accusations, this years Movement – Detroit Electronic Music Festival is getting ready for yet another exciting year in the heart of the motor city.

Although the complete line-up hasn't been announced yet, at the moment it looks like Anthony "Shake" Shakir, Booka Shade, Claude VonStroke, Different World, Gui Borrato, Guido Schneider, Richie Hawtin, Michael Mayer, King Britt, Digitaline Cadenza, Kate Simko, Lazy Fat People, Baby Ford & Zip, Digitaline, LoSoul, Monolake, Paco Osuna, Vladislav Delay, will be rockin' Detroit and many more to come as the event gets closer.

Like last years festival, Paxahau is in charge of everything and seems to have made both the fans and the city happy in 2006, and hope that this year will be no different.

Movement – Detroit Electronic Music Festival 2007 will be held from May 26th to 28th.