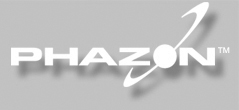 international news _ 20th March, 2006
New York's Twilo Reincarnates in Miami
Text by Jonty Skrufff (Skrufff.com)
America's best known superclub Twilo appears to be returning as a new Miami based venture called Phazon, according to rumours circulating in New York this week, lent validity by the launch of a new website TwiloMiami.com.

"The creative team behind New York and Miami's most legendary clubs is doing it again in Miami Spring 2006," a message reads on the still as yet undeveloped site; "Phazon; the world's best DJs on the world's best sound system."

Twilo's unexpected return comes five years after it was shut down in a blaze of publicity by Rudolph Giuliani's acolyte Rudy Washington, the then Deputy Mayor of New York described by Legalise Dancing NYC as one of the chief protagonists behind the City's attack on nightlife.

"In 1997 Rudy Guiliani created the multi-agency Nightclub Enforcement Task Force to crack down on clubs as part of his "Quality of Life" campaign," the civil liberties group recount on their site. "Deputy Mayor Rudy Washington goes on the record stating, "We've been closing down these little buckets of blood (nightclubs) for about three years and paralyzing them."

Speaking to the New York Daily News four years later as he set his sights on Twilo, the Deputy Mayor boasted to tabloids that he'd close the club for good, claiming 'Every weekend people are in danger (at the club),"If you look back over the last 12 to 14 months there are shootings, stabbings, overdoses".

Though his charges were vigorously dismissed by Twilo's management, Washington soon after got his way though was unrepentant when the New York Times revealed soon after that hospital admissions for ecstasy exposure were unaffected by Twilo's closure.

"These clubs, I hate to use this term, but their body counts keep rising," Washington said, "The clubs are just dumping people at the hospitals. I've succeeded in closing a number of these. And I'm going to continue to do it."

In more New York/ Miami club news, Sound Factory have also just launched a website/ email list at SoundFactoryMiami.com. The site urges visitors to 'sign up for Sound Factory resurrection'.


Phazon Miami Official Site
Sound Factory Miami Official Site