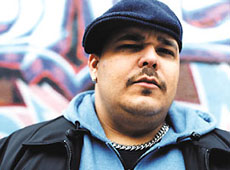 international news _ 13th March, 2006
DJ Sneak's Chicago Ghetto Blues
Text by Jonty Skrufff (Skrufff.com)
Chicago house star DJ Sneak chatted to Skrufff this week about his upcoming Ministry Of Sound compilation Sessions and revealed that he left the Windy City as soon as his musical career provided him with enough money to escape.

"Chicago was a really rough place, I was living right in the middle of gangbangers fighting for colours and when I was there I was at the age then when they would try and persuade you to join their gang, to sell drugs and to push whatever they were pushing," he explained.

"I have a little brother who's two years younger than me and I remember telling him 'this is not for us'. I tried to set an example and today my brother's still alive, he's not in jail and he's not a drug dealer. We actually survived the ghetto, living in those rough conditions until we were able to get out of it. I live in Canada now," said Sneak.

The second generation house jock grew up in Puerto Rico speaking only Spanish and struggled to assimilate initially when he arrived in Chicago with his parents, aged 13.

"Moving to Chicago was a huge culture shock, and though I eventually got used to it, I never liked living having to constantly look over your shoulder or be always wondering if someone's going to break into your car or start shooting guns right in front of your Mom's house- that was the reality of life in Chicago," said Sneak.

"The middle ground slowly disappeared and if you weren't in the rich neighbourhoods, then you were in the ghetto, it's even worse today. So right now Chicago is either yuppie: white, Starbucks, Borders, or straight ghetto; where there's a mix of Latinos, Blacks and any other minorities, all put together in the hood. Nobody really cares if you kill each other, you've just got to do whatever you can and figure it out. I also found Chicago to be a very racist place," he added.

Sneak's harsh memories matched the experiences of fellow Chicago house star Kenny Larkin, who despite moving to a rich, white area when he started making money, was gunned down on his doorstep by robbers who turned up at his house the night he arrived back from a European tour.

Chatting to Skrufff last year, Kenny described experiencing tunnel vision the moment he saw one of the two gunmen firing a Magnum 357 at him and felt the bullet enter his body.

"The muzzle flashed, and I felt the bullet go through, it didn't hurt - it was like - I felt that, Ow! The first thought in my mind was - that wasn't that bad," he recalled.

"I slammed the door and said to my girlfriend 'call the police, I got shot'. She called the police, and they came, and in the meantime I'm walking around going 'I got shot, I can't believe I got shot', and there's this big hunk of meat coming out of the back of my back. Then I couldn't stand up any more, so I had to sit down," he said.

Kenny then suffered the indignity of being treated as a drug dealer by cops who assumed he'd been involved in a drug deal that went wrong, and ended up losing his appendix and 'five feet of intestine' though was later fully cleared and made a full recovery. Police subsequently told Kenny they believed his assailants had had inside information suggesting he'd be away and had shot him, when he'd unexpectedly been home.

"Obviously I can't open the door to strangers anymore, and I built a studio outside the house, somewhere I could go to, to work," he added, "And I had a gun at the studio - I didn't want whoever did it coming back."