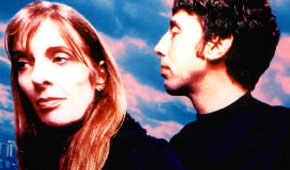 international news _ 9th March, 2006 _ JONTY SKRUFFF
System 7 Re-Live Tokyo's Liquid Room
Text by Jonty Skrufff (Skrufff.com)
Tech-trance-ambient pioneers System 7 are finally releasing their definitive live album System 7- Live Transmissions, some four years after the album first saw the light of day as an extremely limited promo.

Recorded at the now defunct legendary Toyko venue the Liquid Room by the equally renowned (and also now deceased) sound engineer Shiroiro Ono, in 2003 the album includes many of the duo's finest moments including Hangar 84 and their biggest anthem Alpha Wave (immortalised in 1993 by Richie Plastikman Hawtin's remix). The band return to Japan for two major tours later this year, and chatting to Skrufff last year, mainman Steve Hillage said they feel a particularly strong bond with the country.

"We've found ourselves in a quite nice place musically at the moment where we seem somewhere in between progressive house and psy-trance. That's where we find ourselves when we pop out and put the periscope up," said Steve.

"And one of the main places we work outside of the UK is Japan and psytrance is very big there and the people that promote our gigs are pretty connected to the scene."

Steve, who made his name in experimental psychedelic rock legends Gong in the 70s, also explained that System 7's entire music making approach is centred on DJs, despite the fact he and his partner Miquette remain resolutely musicians.

"If you want to make interesting dance music you need to check out some really top DJs and observe how the crowd reacts when they play the music. That's the most important information you can get," he advised, "It's not the same as being a folk singer/ songwriter, where you sit by yourself in your bedroom with your guitar and you come out with your songs and your lyrics. It's a completely different sort of medium here. "

"We are making music that is fundamentally based on the dance music ethic and therefore if we want to plug ourselves in, the best thing is you go and experience some good DJing," he added.

"To a certain extent we get that sort of oxygen when we do live shows as well, because we are communicating with dance happy crowds most of the time. If we can get them to understand what we are doing and get off on it ourselves then we know we're doing something right. "

System 7- Live Transmissions is out on A Wave Records on April 17. The duo also play live at the Sunrise Celebration, June 16 and Wickerman Festival in Scotland on July 21-23.