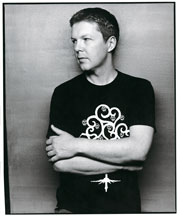 international news _ 3rd March, 2006
Renaissance Dig Up a Fossil
Text by Nick Lawrence (HigherFrequency)
Renaissance and their prodigal son are set to once again join forces with the June 2006 release of John Digweed's latest mix CD, 'Transitions'. The series, which will be released twice a year, promises to showcase John's current tastes as opposed to his 2005 'Choices' compilation which recalled the musical journey of a man who has seen many moons as a DJ.

Both Renaissance and Mr. Digweed will of course be hoping that their latest collaborative release, which is no doubt to get the attention of Richie Hawtin's lawyers, will be able to recreate the magic (both musically and financially) of "Renaissance- Mix Collection Vol. 1" which was the first CD of its kind to go Gold in the UK.

With the tracklisting as yet unknown there are doubtlessly thousands upon thousands of progressive fans everywhere with bated breath. So if June is just too long to wait then you can catch Digweed at the Bedrock night at the Miami WMC which is being held at the Pawn Shop Lounge on March 23.


John Digweed Video Interview (20/11/2004)
BEDROCK ANNIVERSARY @ FABRIC, LONDON (13/10/2005)
CLUB PHAZON - WOMB MOBILE PROJECT feat. SASHA & JOHN DIGWEED (22/11/2005)