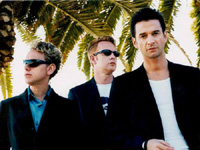 international news _ 1st March, 2006
Depeche Versatile Disc
Text by Nick Lawrence (HigherFrequency)
If your DVD collection longs for one more Depeche Mode title then we have good news for you. As you probably already know the synth-infused rock band is currently touring their latest album "Playing the Angel" and if you were lucky enough to be present at their February 18th and 19th gigs in Milan you will also know that this band founded in merry old England still has something to offer after over twenty years in the game.

Come September of this year you will be able to re-live the two days of Milan magic as director Blue Leach was there to capture it all for the band's latest DVD release. Also included on the disc should be plenty of backstage action in this follow up to the 2002 release of "One Night in Paris".

If you still haven't seen the Mode there is still plenty of time with the tour lasting long into the year. Highlights are set to include appearances at the Coachella Festival (Apr 29) in California, the Greenfield Festival (Jun 17) in Switzerland and the Wireless Festival (Jun 25) in London.