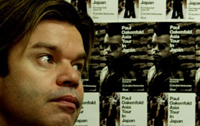 international news _ 27th June, 2006
Oakenfold's Fall from Grace (& More DJing Disasters)
Text by Jonty Skrufff (Skrufff.com)
Paul Oakenfold has revealed that his worst ever DJing disaster involved falling off a stage in front of 5,000 Kiwis in New Zealand, he told Yahoo News this week.

"They never put any white tape along the edge and I didn't see where the stage ended. I hurt my leg but I got up and soldiered on," he explained, "I was hoping that no one would have noticed but it got the biggest cheer of the night."

Less fortunate with his DJ mishaps was gallivanting DJ Danny Howells who chatted to Skrufff this week about the same topic and revealed that the worst of his many cock-ups occurred at a festival in Romania after a particularly exuberant show.

"I'd just finished my set and was waving my headphones around my head when the socket hit me," said Danny, "Some local TV guy started filming me really close up and it took me a couple of minutes to realise there was blood pouring out of my head."

The globe-trotting star also messed up at a block party in Los Angeles one New Years Eve, he admitted, in front of 10,000 clubbers.

"At midnight I pulled out a record that featured the speaking clock and leads into the Big Ben chimes but unfortunately I played it at +8 percent and also started it about 30 seconds too early," said Danny.

"I thought no-one would notice until I realised there was a huge display with a countdown clock behind me."

French electro star producer Alex Gopher also encountered camera related DJing difficulties, in LA in 1999 when he was spinning a set in a club accompanied by a (male) friend, he told Skrufff.

"Half an hour into my set two girls came in the DJ booth and they tried to undress us and they tried to, err, make some 'indecent actions'," he chuckled. "But the strange thing was that they were accompanied by two cameramen. It was very difficult to say no because they were very pretty but I knew that if something happened it would end up all over the internet. So I said to the girls, 'I'm sorry, but me and my friend, we are gay'. It was typically American," he added.

Alex Gopher's Spam EP was released on June 26 on PIAS.
Party Report : DIG DEEPER feat. DANNY HOWELLS @ WOMB, TOKYO (29/04/2006)
Interview : Danny Howells Video Interview (02/07/2005)
Paul Oakenfold Official Site
Danny Howells Official Site