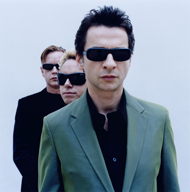 international news _ 27th June, 2006
Essex Badlands' Strange Musical Fruit
Text by Jonty Skrufff (Skrufff.com)
Depeche Mode star Martin Gore chatted about his past growing up in London's notoriously violent commuter town of Basildon this week, and revealed that he grew up socialising with some of the area's toughest villains.

"I read the Essex Boys (about the 1995 Rettendon Range Rover murders) book recently, which was a bit scary, as we used to know one of the people in that book; one of the people who ended up dead," he told Time Out.

"He was someone we used to hang around with in the pubs in those days. I don't know if Basildon's changed too much since then, but it wasn't a very safe place back then."

The Depeche Mode star's recollections matched those of fellow Essex electro pioneers Nitzer Ebb, who said they also regularly encountered violence, though despite wearing make-up and womens' clothes, managed to largely avoid it because of their music.

"Every once in a while, we'd get picked on, but for the most part we didn't, miraculously we got left alone a lot of the time," Bon Harris told Skrufff last month.

"I remember when the old Two Tone revival happened (1981)and I was really into a lot of old ska and reggae from the sixties and early seventies, we'd play a King Tubby song or something like that and suddenly all the skinheads loved you because you played music they liked.

In some ways, we had a peculiar connection with the mods and the skinheads, they were all dressing up to look different from the norm, so I think some of them had a grudging respect for us: we were all in the same boat; into our music and kind of living on the fringes of regular society," he recalled.

Erasure star Andy Bell also used extreme dressing to to escape violent thugs in his home town of Peterborough, some 50 miles north of Basildon, in Lincolnshire, he told the Guardian in 2003.

"I was trying to cultivate this weird, loner image, so I made some friends who hung out at a local pub and smoked dope, but they were truly weird. One time they made me take acid and then started slapping me round the face, which was really cruel of them," said Andy.

"Peterborough is so scary," he added, "Peterborough and Detroit must be the most scary places on the planet."

Depeche Mode's new single John the Revelator (including remixes by Tiefschwarz) is out now on Mute Records. Nitzer Ebb's Best Of' compilation Body of Work is also available on Mute.
News : Nitzer Ebb Star's American Dream (01/05/2006)
Depeche Mode Official Site
Nitzer Ebb Official Site
www.timeout.com
Mute Official Site